Edward Hillyer, Team Leader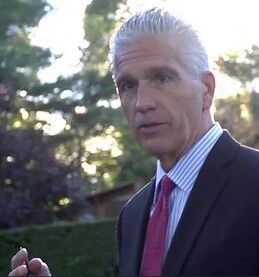 The Hillyer Team, Connecticut's Leader in Luxury Property Sales from Stonington to Guilford.
A message from Edward Hillyer, Team Leader, The Hillyer Team, Connecticut's Leader in Luxury Property Sales from Stonington to Guilford. Sellers often come to me when prior marketing efforts failed to sell their home. Over 80 of my recent sales were other agencies' expired unsold listings. On average, I not only relisted and sold them but in significantly less marketing time than the previous agencies' unsold listing period. I have a different approach to selling real estate. Luxury homes are by their nature distinctive, and unsurprisingly this sense of distinction is reflected in the custom sales plan that we create for each one of our listings. Some agents start with stock, standard "solutions," but a successful sale begins with identifying and correcting a property's presentation and marketing problems. I start by helping my sellers get their home ready for the market. At certain price points, buyers expect to see on-trend furnishings and décor. Part of my full suite of services is Virtual Staging – the ability to digitally erase, cluttered or outdated furnishings and décor from a property's photos and replace them with new computerized on-trend furnishings -- without cost or effort on the part of the homeowner. If your property does not reach out and grab buyers online, they may pass on it right there and not come to see it in person. When buyers see your home online, we want them to think, "This is it…This is the one" – driving them to come to see it. You only get one chance to make a first impression.
Once your property is "market-ready," I employ rare, sophisticated technologies of top professional Internet marketers that target, identify, and "follow" luxury buyers with your property. When an agent says, we put your home "on the internet," - think twice. Simply putting your home on various websites and hoping for the best is not enough. My systems go way beyond the "garden variety" strategies, such as ADWERX, that target general zip codes. I purchase tens of thousands of professional ad impressions and put your property in front of real serious luxury buyers with a high intent to buy. I also match these high-end buyers to their Facebook account and showcase your property on their personal Facebook page! Whether you think it's intrusive or ingenious, it works and has made me a CT leader in the sale of high-end luxury property. I have always strived to use the latest technology that gives my sellers that competitive edge.
In today's environment, more so than ever, a 3-D Virtual Reality Tour of your home is critical to selling your property. I produce an exact 3D online digital twin of your house. Buyers can visually "walk" through your home online, moving from room to room, and floor to floor, as if they were there – virtual reality, it feels real. Buyers control the experience - stopping wherever they want – for as long they want - delving into your home's best features – inspiring them to come to see it in person. Also, of the utmost importance; a 3-D Virtual Reality Tour of your home reduces unnecessary showings because prospective buyers could visually walk through your home before setting up the showing appointment! Imagine the time savings of not having to prep and stage your home for people who should not have traipsed through your home in the first place. If you're a seller, this is epic and is one of the most significant advancements that I have seen in my 25 years in real estate. The kicker is that this technology also increases in-person showings to real buyers who have a genuine interest in your home! This technology makes your property stand out from the crowd and get noticed. Buyers will spend 10X longer viewing a property online with a 3-D Virtual Reality Tour, increasing calls by over 95% and generating 12X more shares of your property on social media. It's hard to comprehend why less than 5% of agents use 3-D Virtual Reality.
When you list your property with The Hillyer Team of Raveis Real Estate, you are well connected. Whilewe are local experts, our global network connects you to buyers in over 800 major cities from Bangkok to Barcelona. We are members of a premier, invitation-only network, Leading Real Estate Companies ofthe World®. Its luxury arm, LuxuryPorfolio.com®, is comprised of the world's most powerful independent brokerages. Our members handle over $257 billion in U.S. home sales volume - more than any other real estate network, franchise, brokerage firm, or brand. When you list with us, we showcase
your property on this venue - in 9 languages & over 60 currencies. You see, it is the independents, like the Hillyer Team and Raveis Real Estate, that do the lion's share of luxury property sales in almost every major town, city, and country in the world. Welcome to connected. Part of my success is my ability to direct a strong team of marketing professionals; from getting a listing "market-ready" to put it in front of the eyes of real buyers. I have always strived to use the latest technology to give my listings a competitive edge to make them stand out from the crowd and get noticed. Choose an agent who provides the latest cutting-edge technology. It is one of the most important marketing decisions you will ever make, and it might be tantamount to selling your home. My sellers would tell you that I am committed to them and to their property until it sells. I take great care and pride in everything that I do for them - and put in the time to get it right. I have an established record and use discretion and privacy when representing my valued clients. If you wish to find out if you are a fit for my marketing plan, I will be happy to discuss the importance of my services as they relate to selling your property. Feel free to email me at edward@hillyerteam.com or call me directly on my cell phone at 860-235-3424. I usually pick up right away, but if not, I will get right back to you.